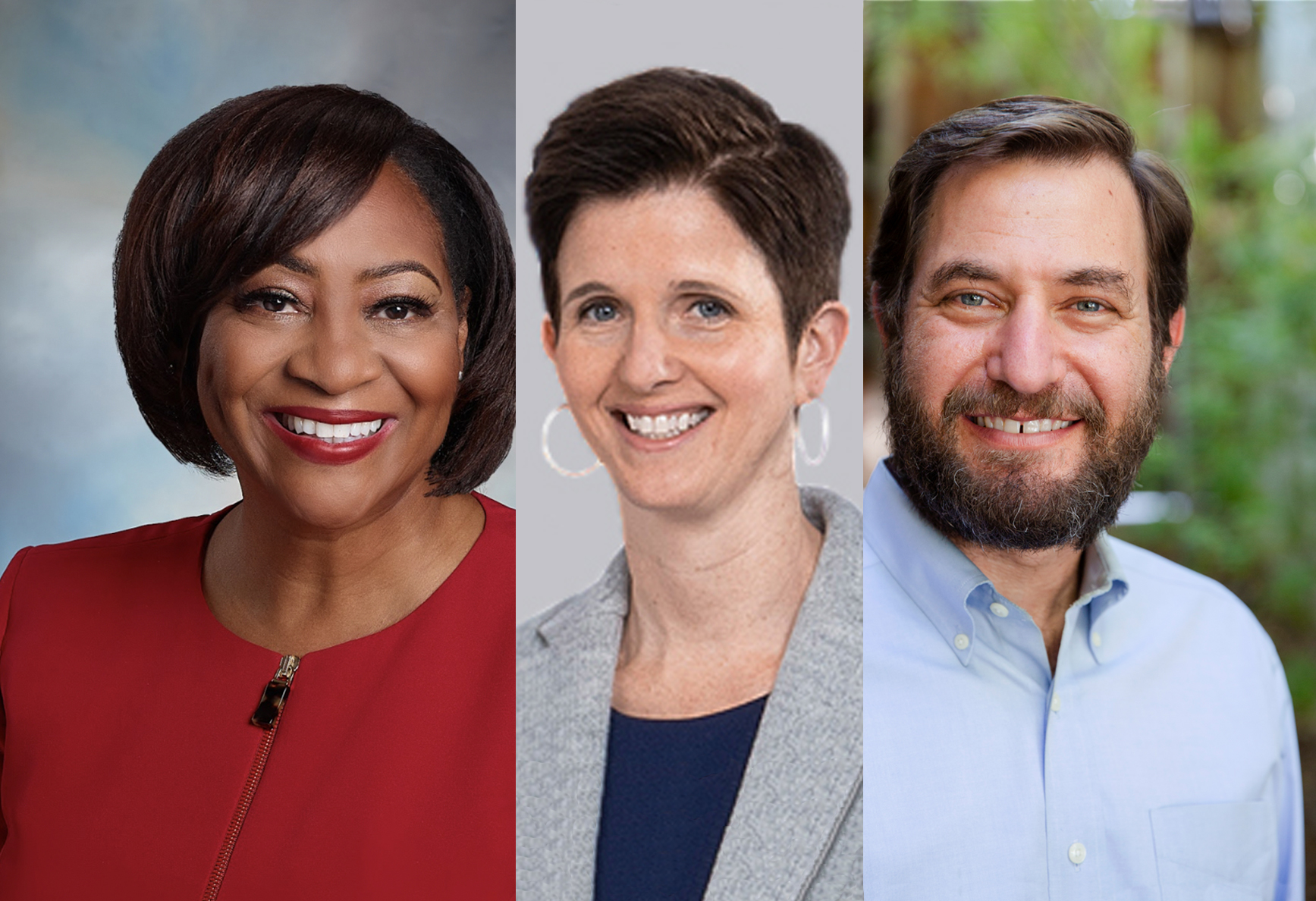 The Upjohn Institute welcomes three new members to its Board of Trustees: La June Montgomery Tabron, Kathryn Fink and Jesse Rothstein.
William Erastus Upjohn established the W.E. Upjohn Unemployment Trustee Corporation in 1932, in the midst of the Great Depression, to combat unemployment. This organization in 1945 created the Upjohn Institute, which its trustees oversee.
Together, the new trustees bring a wealth of experience to the board, said Donald Parfet, board chair. "In particular, they provide in-depth perspectives from the world of foundation work, human resources strategic planning, and a broad and deep understanding of academic work in the fields of labor and education.
"La June is an exemplary leader at the Kellogg Foundation and provides valuable insight from a career working in the non-profit sector on issues related to young children and addressing the causes of racial inequality and poverty in communities."
"As an architect of Human Resource strategies at Stryker, Kathryn brings valuable experience in this time of changing workplace culture and hybrid work environments."
"And Jesse, as an academic economist, brings the perspective of a career working on cutting edge research and applied policy topics," Parfet said.
La June Montgomery Tabron
La June Montgomery Tabron is the president and CEO of the W.K. Kellogg Foundation in Battle Creek, one of the largest private foundations in the United States. Tabron is the first African-American president and CEO of the foundation, where she has served in a variety of positions during her more than 30-year career.
A champion for vulnerable children and for creating the conditions necessary for them to thrive, Tabron leads the Kellogg Foundation and its work to ensure the optimal development of young children from birth to age 8, heal the profound racial inequities in communities, and cultivate community leaders and community-led solutions that support educated kids, healthy kids, and economically secure families.
Tabron serves on the board of the Kellogg Company and chairs the W.K. Kellogg Foundation Trust. She is a Bynum Tudor Fellow at Kellogg College, Oxford and serves on various boards of Battle Creek Community Health Partners as well as the Alumni Association of the University of Michigan Board.
She holds a bachelor's degree in business administration from the University of Michigan and a master's degree in business administration from the Kellogg Graduate School of Management at Northwestern University. She has also received honorary doctorates from Marygrove College and Union Institute & University. She is a certified public accountant licensed in Michigan.
Kathryn Fink
Kathryn (Katy) Fink is the vice president and chief human resources officer for Stryker Corporation. She is responsible for all human resources policies, practices, planning, direction and activities, including talent acquisition and development, Total Rewards and HR Shared Services.
Fink began her career with Stryker in 2013 as vice president for talent management and became vice president for Human Resources, MedSurg and Neurotechnology Group in 2015.  Prior to joining Stryker, she held HR roles at Cintas Corporation and Ethicon Endo-Surgery, a division of Johnson & Johnson.
Fink holds a bachelor of science degree from Kenyon College and master's degree in human resource management from Rutgers University.
Jesse Rothstein
Jesse Rothstein is a professor of public policy and economics at the University of California, Berkeley and the co-founder and co-director of the California Policy Lab. He previously served as chief economist at the U.S. Department of Labor and as senior economist with the Council of Economic Advisers. From 2015-2020, he directed the Institute for Research on Labor and Employment (IRLE) at UC Berkeley.
Rothstein's research examines education policy, tax and transfer policy, and the labor market. His recent work includes studies of teacher quality, school finance, intergenerational economic mobility, take-up of safety net benefits, and the labor market during the Great Recession.
Rothstein received a Ph.D. in economics and a master's in public policy from the University of California, Berkeley, and a bachelor's degree from Harvard. He was named the John T. Dunlop Outstanding Scholar by the Labor and Employment Relations Association in 2011. He is a research associate of the National Bureau of Economic Research and a fellow of the National Education Policy Center, the CESifo Research Network, the IZA Institute of Labor Economics, and the Learning Policy Institute.
---