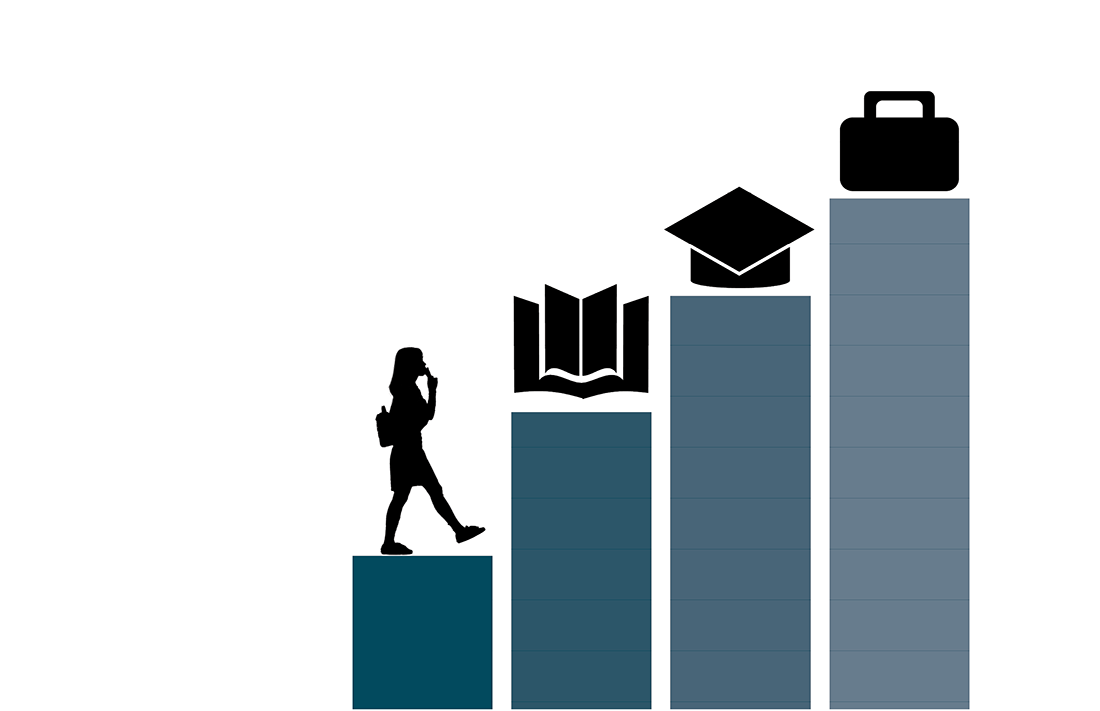 Promise programs began as strategies for reducing the financial burden of college attendance for an area's young people. As the movement has matured, an additional focus has been providing students with the support needed to navigate key transitions, such as moving from higher education into a job or career. Promise programs are increasingly focused on the school-to-workforce transition, innovating with new approaches and aligning their work with the needs of business partners seeking a trained and diverse workforce.  
This shift has taken place as programs increasingly realize that access to higher education itself may not be sufficient to ensure students obtain good jobs. Promise programs have been successful in boosting degree attainment, especially the Kalamazoo Promise. After 17 years, Kalamazoo Promise scholars have earned more than 260 certificates, 552 associate degrees, 2,108 bachelor's degrees, 341 master's degrees, and 85 doctoral degrees. Yet not all scholars have benefited equally, with gaps in degree attainment that run along socioeconomic and racial/ethnic lines. To address these issues, the Kalamazoo Promise recently enhanced its programming to better connect students, educational pathways, and the needs of local businesses. 
Ensuring promise scholars have relevant work experience.    
Retaining local talent within the community.   
Fostering the Kalamazoo Promise's Higher Promise, a form of paid internship. (Other Promise programs have also adopted a paid internship model, including the Pittsburgh Promise Executive Scholars and the New Haven Promise Council internship program). In Kalamazoo, the effort emerged from a recognition that some students may lack effective networks needed to secure professional internships or employment after graduation. Additionally, regional businesses wanted to bring more diverse local talent into their hiring pool but were unsure how to do so. 
The Higher Promise fully launched in 2021, after COVID closures. The initiative began with a public challenge to the greater Kalamazoo business community—a direct question delivered through social media and targeted outreach—about the number of Promise interns they'd like to host for the summer. Meanwhile, Promise scholars attending one of the three local higher education institutions—Kalamazoo Valley Community College, Kalamazoo College (a private liberal arts college), or Western Michigan University—and who had roughly 45 credits were notified of paid summer internship opportunities opening in the community. In its first year, more than 40 businesses signed up to hire over 100 Promise scholars as interns. Once position descriptions were crafted for each internship, scholars were matched with business partner needs based on student majors and interests. Over 40 scholars successfully obtained internships in the summer of 2022, helping develop professional networks to support career success.   
Integral to the Higher Promise design was a structure that offered real career ladders. Internships required a minimum pay of $15 per hour and business partners committed to matching each intern to a mentor. Additionally, interns attended a Workplace Navigation course throughout the summer, culminating in a project that highlighted their summer work. In turn, business partners were invited to attend three workshops: Leading with Equity, Internship Program 101, and Mentorship/Coaching. Area human resource professionals and recently employed Promise scholars helped craft the content of these sessions, which included content about creating and supporting a diverse workplace, fostering workplace norms and expectations, and tips and networking around supportive mentoring and coaching strategies.    
Although all Promise scholars with sufficient college experience are eligible to participate, Higher Promise has especially focused on expanding opportunity and equity for populations with unequal access to high wage careers. Indeed, 70 percent of 2022 interns are students of color and 85 percent have never held an internship before. Existing evidence suggests that employers are more likely to hire candidates who had an internship while in college, so these efforts offer real potential to improve labor market success for underrepresented groups, which include Black, Hispanic, low-income, and first-generation students. Business partners seem to think so, too: almost all have committed to Higher Promise for next year.  
Furthermore, there are already planned expansions for 2023, with goals to increase the number of interns and business partners. Some internships are targeted to extend beyond the summer, allowing for part-time employment while the student returns to school. If these innovations continue to bear fruit, place-based college scholarships will increasingly be more than just programs to improve access to higher education. They will also be about connecting and supporting young people's entry into the workforce. 
Experts
---