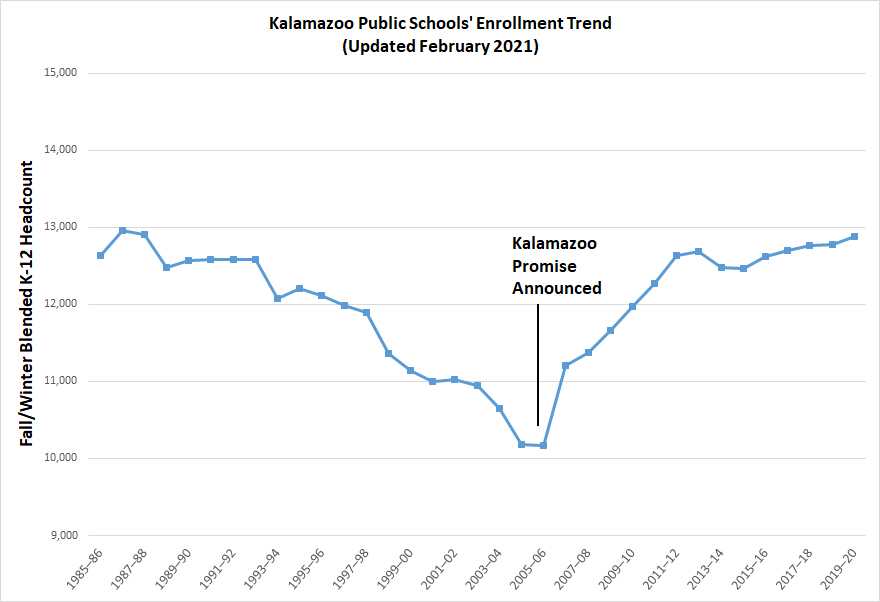 The Upjohn Institute, through its Promise: Investing in Community initiative, examines "Promise" college scholarship programs as a place-based economic development strategy. The Kalamazoo Promise, announced in 2005, was the first program of its kind and is now among a growing number of Promise programs nationwide.

As part of this effort, the Institute tracks usage and success measures of the Kalamazoo Promise. The latest numbers, for 2020, have just been posted on our website.

Some highlights:
The share of Kalamazoo Promise-eligible students who enrolled in college within six months of graduation declined in fall 2020, in line with national pandemic trends and driven by a drop in community college enrollment. Nearly 58 percent of Kalamazoo Promise-eligible students from the class of 2020 enrolled in college that fall, down from 66 percent for the class of 2019.
National figures show a similar drop. According to the National Student Clearinghouse 2020 High School Benchmark report, immediate fall enrollment for the class of 2020 was 27.7 percent, down from 35.3 percent in the previous year.
Class of 2020 enrollment in 4-year public universities increased by 18 percent for Kalamazoo Promise-eligible students, while the nation as a whole saw a 14 percent decline. Enrollment also increased at 4-year private institutions by 28 percent, counter to the national trend, a decline of 29 percent.
Fall enrollment of Promise-eligible students in community colleges dropped more than 50 percent for the class of 2020. National community college enrollment reflects a similar trend.
In addition, the Kalamazoo Promise added flexibility to its rules due to the pandemic, waiving a full-time enrollment requirement to better accommodate students.
Click the button below for these and many more measures, including enrollment and degree completion by race, gender and socioeconomic status:
---