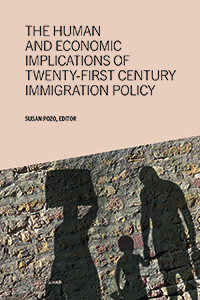 Immigration is one of the most highly-charged and divisive issues facing the U.S. today. Yet little attention is paid to serious analysis of immigration and data about immigrants and their influence on the U.S. economy. Instead, anecdotes—often ugly—rule the debate. A new book from the Upjohn Press helps fill the notable lack of scholarly input.
The Human and Economic Implications of Twenty-First Century Immigration Policy, Susan Pozo, editor, presents the findings of prominent immigration scholars who use data and theory to help unravel facts concerning immigration. This book provides a framework that helps move us from the personal to the analytical, to facilitate a more systematic appraisal of immigration and the policies before us. The authors document and provide careful analyses on several key issues including the fiscal impacts of immigrants in the United States, assimilation along generational lines, the effects of enhanced immigration enforcement at the interior of the United States, and alternative blueprints for allocating refugees. They also offer suggestions on the use of modeling tools of international trade to assess immigration policy today. The public must be better informed to more effectively debate immigration, and this volume can help set us on that path.
Included are:
Immigration Policy Today, Susan Pozo
The Economic and Fiscal Effects of Immigration: Implications for Policy, Pia Orrenius and Stephanie Gullo
Socioeconomic Integration of U.S. Immigrant Groups over the Long Term: The Second Generation and Beyond, Brian Duncan and Stephen J. Trejo
Immigrants and Poverty: How Do They Cope with It, How Do They Affect Natives? Giovanni Peri
Understanding the Consequences of Heightened Interior Immigration Enforcement, Catalina Amuedo-Dorantes and Esther Arenas-Arroyo
Understanding Migration Policy: Insights from Models of International Trade, Alfonso Cebreros, Daniel Chiquiar, Monica Roa, and Martin Tobal
Combining Physical and Financial Solidarity in Asylum Policy, Jesus Fernández-Huertas Moraga and Hillel Rapoport

Says Pozo in her introductory chapter:
In this age of increasingly restrictive immigration policies, it is important to continue to challenge preconceived, often biased assumptions about immigrants using sound, empirical, and theoretical research methods. The contributors to this volume assist with this task by providing data and new perspectives, and by offering policy tools crafted to solve perceived shortcomings of the system.
---