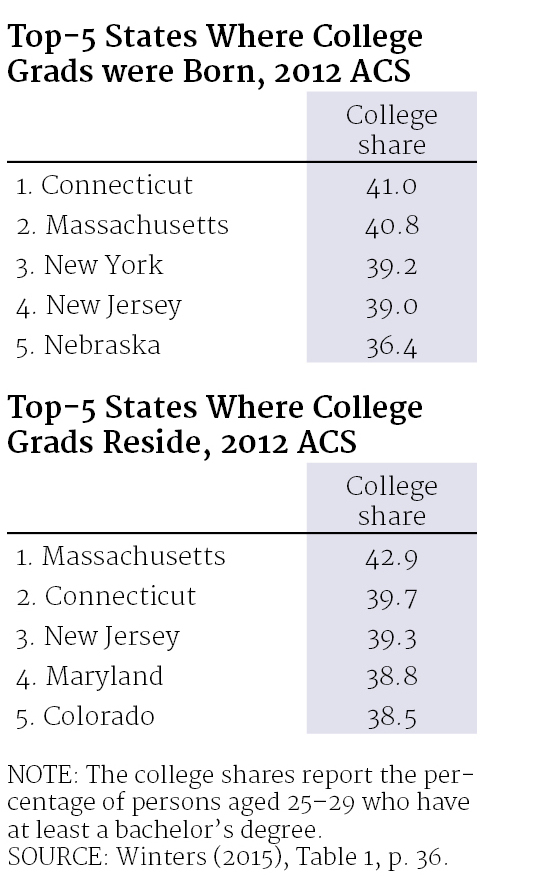 States consider higher education spending as an investment in their future workforce. But college graduates are highly mobile and they follow the jobs. To what extent does a state that produces large numbers of college graduates correspond to higher numbers of college graduates in its workforce?
A recent Upjohn Institute working paper by John V. Winters finds that the relationship between a state's production of college graduates and its supply of college grads in the workforce has increased over time, becoming nearly proportional in recent years, especially for younger residents. The table at left shows the top-5 states for college share rankings by birth and by residence, with the most educated ranked first.
According to Winters, the strong relationship between the number of college students born in a state and the number of that state's college-educated residents supports state investment in higher education. At the same time, educational investment benefits cross state boundaries making  federal investments in higher education potentially justifiable.
Given these findings, state and local governments may also wish to consider place-based college scholarships as a workforce investment with both current and future benefits. A recent working paper by the Institute's Tim Bartik and Nathan Sotherland finds that such scholarship programs (e.g., The Kalamazoo Promise) reduce out-migration for at least three years after their announcement. Reduction in out-migration is especially strong for families with children. While place-based scholarships offer working adults the incentive to stay and reduce their future college expenses for their children, the support to complete college might also prove to have long-term benefits in increasing the state's supply of college-educated workers.
Read "The Production and Stock of College Graduates for U.S. States" by John V. Winters
Read "Migration and Housing Price Effects of Place-Based College Scholarships" by Timothy J. Bartik and Nathan Sotherland
---